Top 3 Best AI Video Upscaling Software to Upscale Videos up to 1080p, 4K, 8K
"Is there any AI upscaling tool for videos? What is the best video upscaling software?" - Carson
Do you want to upscale videos from SD (480p), HD (720p) to 1080p or 4K, even up to 8K? How to upscale videos with details preserved? How do you increase video resolution while keeping the video quality? Ever since video upscaling software started coming out, the questions mentioned above are frequently asked questions from video creation fans.
Thankfully, the use of AI video upscaling is groundbreaking. Instead of waiting for companies to recreate standard definition content, video enthusiasts can do it themselves. Here we have listed the top 3 best AI video upscaling software in 2023.
Simply read this post and learn how to enhance your SD videos to match the high-quality videos on your 4K TVs, tablets, or smartphones using the AI video upscaler. Even if you need to upload super crisp and clear video clips to social media sites like Facebook and Twitter for attracting more people, these AI-based video upscaling tools can make that come true.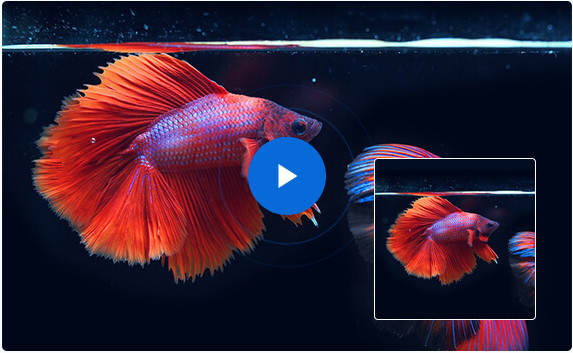 Part 1: What Is AI Video Upscaling
Basic upscaling is a way of stretching a lower resolution image onto a larger screen, sometimes degrading quality and destroying details. To enlarge an HD image to fit on a 4K display, you need to fill in an additional 6 million pixels. So the upscaling software has to figure out what each of those new pixels should display based on what the pixels around them are showing (interpolation).
Do you wonder what is AI video upscaling? Traditional upscaling starts with a low-resolution image and tries to improve its visual quality at higher resolutions. AI video upscaling takes a different approach. Given a low-resolution video, a deep learning model predicts a high-resolution video that would downscale to look like the original, low-resolution video.
---
Part 2: Top 3 Best AI Video Upscaling Software
After we learned the difference between the traditional, basic video upscaling and AI video upscaling in part one. Now let's learn the best 3 AI video upscalers in the world!
1. AVCLabs Video Enhancer AI
AVCLabs Video Enhancer AI stands out among the list. As an AI-based video upscaling software, and powerful detail-preserving upscaling tool, it allows users to automatically upscale low-resolution and blurry homemade videos or old films from 480p, 720p to 4K, even up to 8k in a smart way. Through the use of powerful algorithms, it upscales video resolution with detail gathered from multiple frames. Moreover, it helps users to remove video noise and video blur and adjusts video brightness, contrast, and saturation in an ideal balance. No advanced video editing skills are required.
AVCLabs continuously improve the models with the latest developments in Deep Learning so it can always provide you with the best results.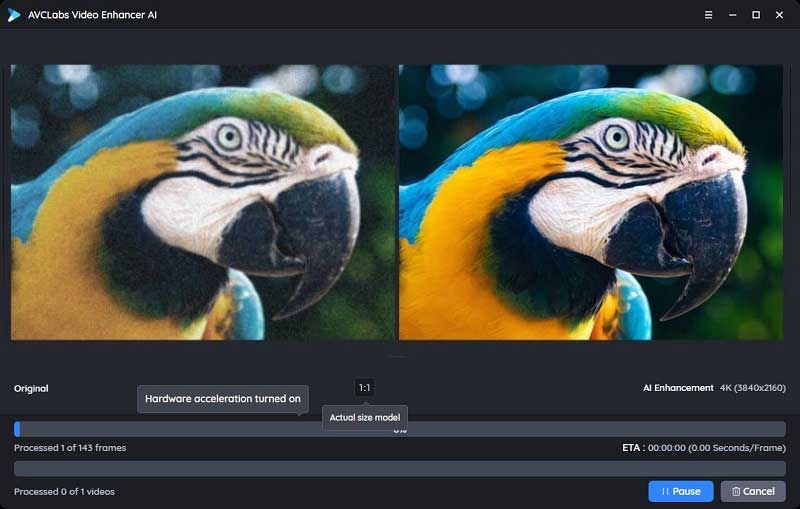 Video Enhancer AI
Enhance the video quality to make them more aesthetically pleasing.
Deblur your footage by using machine learning.
Upscale videos from SD to HD, HD to 4K.
Upscale low-res videos onto a larger screen.
Trim your footage frame by frame.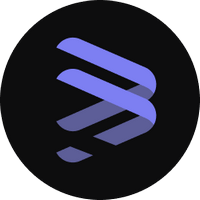 How to Upscale 720p, 1080p Videos to 4K Using AVCLabs Video Enhancer AI
Step 1
Install and Launch AVCLabs Video Enhancer AI
Warm reminder: Before upscaling videos from 1080p to 4K, you can click here to check whether your CPU or GPU is capable of upscaling videos with AI.
Download AVCLabs Video Enhancer AI from the link given above and then simply launch it after it has been installed on your computer.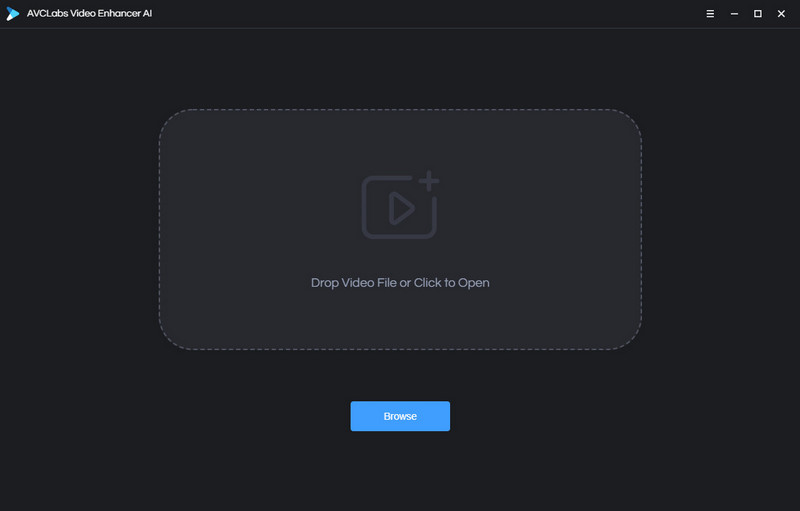 Step 2
Add Video Files You Need to Upscale and Select the AI Feature and Set the Output Parameters
Import the low-resolution or low-quality video you want to upscale from your computer, then you need to modify some critical parameters like the corresponding AI features (Here you need to select the AI Enhancement feature), output resolution, output format and output path.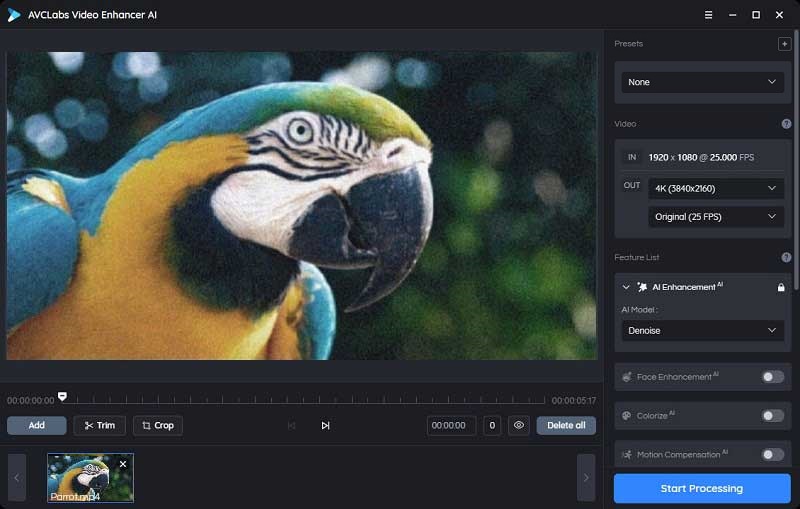 Before upscaling the video, you are able to trim the unwanted parts frame by frame to save processing time. At the bottom of the program, you can trim your video to the desired length by dragging the slider bar. Or input the start and end of the frames to set a clipping point accurately.

Once all the preparation work is done, click the Start Processing button to upscale the low-res videos automatically. The final processing time depends on your PC's system configuration, video size. Please be patient.
After the AI video upscaling process is completed, just open the file folder to check and enjoy the upscaled 4K video.
---
Pros:
• User-friendly to most users both in price and UI
• Support exporting the upscaled video to AVI (UnCompressed), MP4 (H.264) format
• Upscale SD, HD videos to 4K, 8K without compromising quality
• Users' privacy security guaranteed
• Multiple paid plans, with the lifetime plan being a good deal
• Available on Windows PC and Mac
Cons:
• Relatively high requirement for computer configuration
• Only the first 3 videos are free under trial version
---
2. Topaz Video Enhancer AI
Topaz Video Enhancer AI is also a great AI-based video upscaling software that is similar to AVCLabs Video Enhancer AI. This video upscaling program is capable of upscaling low-res videos up to 8K UHD with true details and consistency, thanks to its highly-intelligent AI technology. The interface is easy to understand and provides you easy access to the built-in video enhancement tools. In addition, this AI video upscaling tool enables users to upscales video images up to 600% losslessly.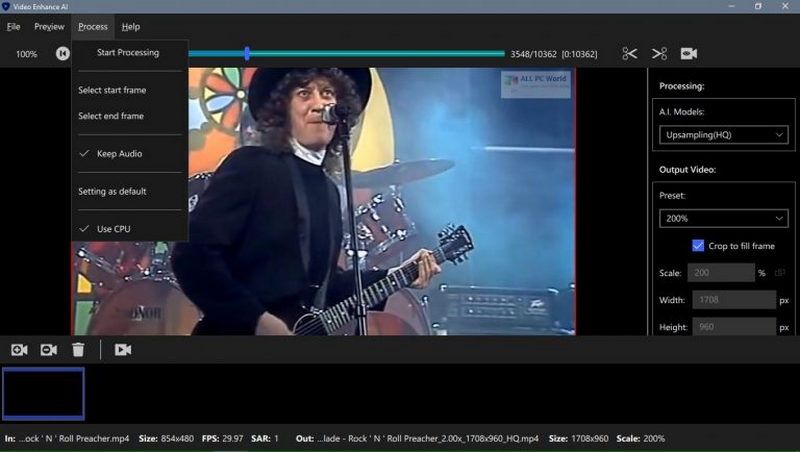 Pros:
• Powerful processors to upscale low-quality videos from HD to 1080p or 4K, even up to 8K
• 30-days free trial
• Multiple video formats supported
• Available on both Windows PC and Mac
Cons:
• High requirements for computer configuration
• It is not optimized to work using CPUs
• It only offers a one-time lifetime license for its users
• Not User-friendly price for normal users
• Videos upscaled using the trial do come with a watermark
---
3. DVDFab Video Enhancer AI
DVDFab Video Enhancer AI is one of the best AI video upscaler software out there. It comes with a clean and intuitive interface that anyone can easily understand and supports a wide variety of tools for seamless video upscaling. It utilizes advanced AI learning and algorithms to improve video quality and works automatically to enhance videos or movies with low-res quality from 480p (SD) to 1080p (Full HD), and from 1080p to 4K. There's no need to configure any settings.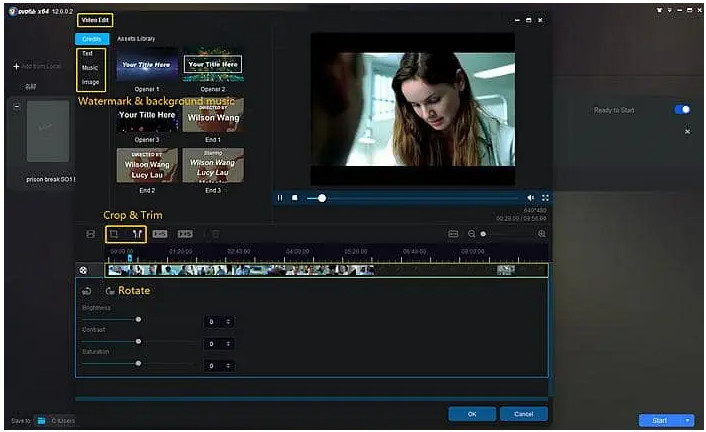 Pros:
• Powerful and robust AI features that constantly improve
• Simple-to-use interface
• Upscale videos up to 4K
Cons:
• Available on Windows only
• Limited upscaling options
---
Conclusion:
To sum up, you are able to easily upscale videos to 4K, up to 8K using any of the 3 AI video upscaling tools listed above. DVDFab Video Enhancer AI only allows you to convert HD videos to 4K and is available for Windows only. Topaz Video Enhancer AI is a little bit expensive for non-professionals. In that case, AVCLabs Video Enhancer AI is highly recommended.
Try AVCLabs Video Enhancer AI to breathe new life into your footage!
---

Video Converter

DVD Converter

Video Editor

Enhance Video Quality

Enhance Image Quality

Remove Objects