AI Image Sharpener Online | Deblur Photo Online, Make Image Clearer
"How can I sharpen an image online? How can I make a blurry picture clear online? I'm tired of Photoshop. Is there any online image sharpener recommended?" - Eugene Ustinenkov
Have you ever tried to make an image sharper without Photoshop? Sometimes, you find the images you just took are not clear and you have to delete them. It's a waste of energy and time-consuming. Thankfully, there are many effective free AI image sharpeners online to help users to sharpen images online intelligently and automatically and improve a blurry image. It is rather simple to unblur images online if you are using the right online photo sharpener tools like AVCLabs AI Image Enhancement.
In this article, we would like to explain how to make use of an image sharpener online to sharpen images online for free with ease.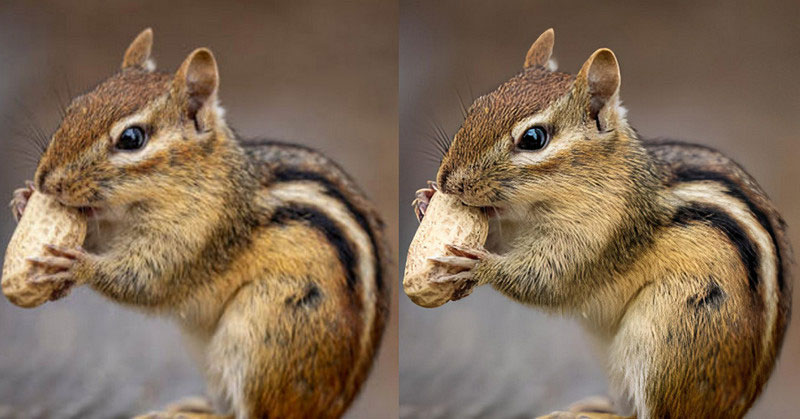 Part 1: Image Sharpener Online
AVCLabs AI Image Enhancement is one of the best free online image sharpeners based on AI technology. Through training on millions of synthetic blurry images and learning to intelligently sharpen them. This image sharpener online does a great job in sharpening images online while improving the image quality. Powered by AI noise reduction technology, it allows users to get rid of noise from images taken by a digital camera. No Photoshop skills are needed to sharpen the blurry images.
We continuously improve our models with the latest developments in Deep Learning so we can always provide you with the best results.
---
Part 2: How to Sharpen Images Online for Free
This easy-to-use online tool has powerful features. Just upload an image to its interface and let AI sharpen your image automatically. Now let's get started.
Photo Enhancer AI
Enlarge and upscale image without losing quality.
Sharpen image edges and deblur image online 100% automatically.
Upscale low-definition photos to HD.
Enhance color and contrast with only one click.
No editing skills are needed.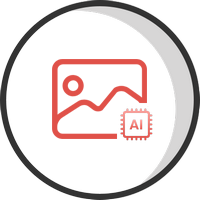 Here are the simple steps to sharpen images online and make blurry images clearer, crisper, and more precise.
Step 1
Upload A Blurred Image to AVCLabs Photos Enhancer AI
Go to the free online AI image sharpening tool with any browser (such as Google Chrome, Firefox, Safari). Simply click on the Click to upload button to add a small and blurry image that you wanna sharpen to this online AI image sharpening tool. It also supports directly dragging and dropping blurry images to the online image sharpener.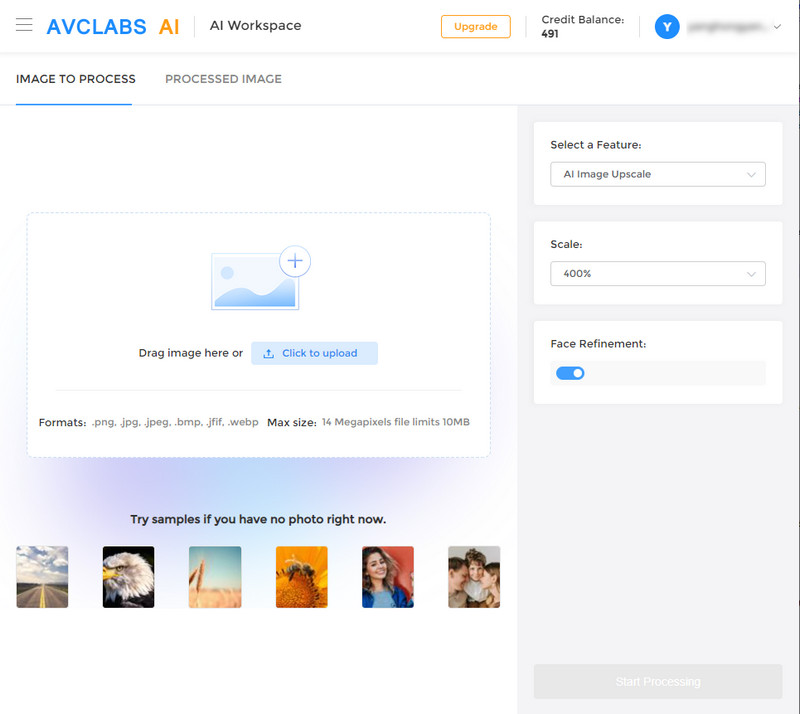 Step 2
Choose the AI Model And Parameter to Sharpen the Image Online Automatically
This image sharpener provides its users with 8 models: AI Image Upscale, AI Anime Upscale, AI Image Enlarge, AI Photo Denoise, AI Image Sharpen, AI Background Remove, AI Photo Colorize, AI Photo Calibrate. To unblur the image online for free, here you're suggested to choose the AI Image Sharpen model to move on.
There are four scale options (from 100% to 400%) available . You are able to remove the blur while increasing the photo's resolution. If needed, you can choose more scales available from this tool, like 200, 300% and even 400%.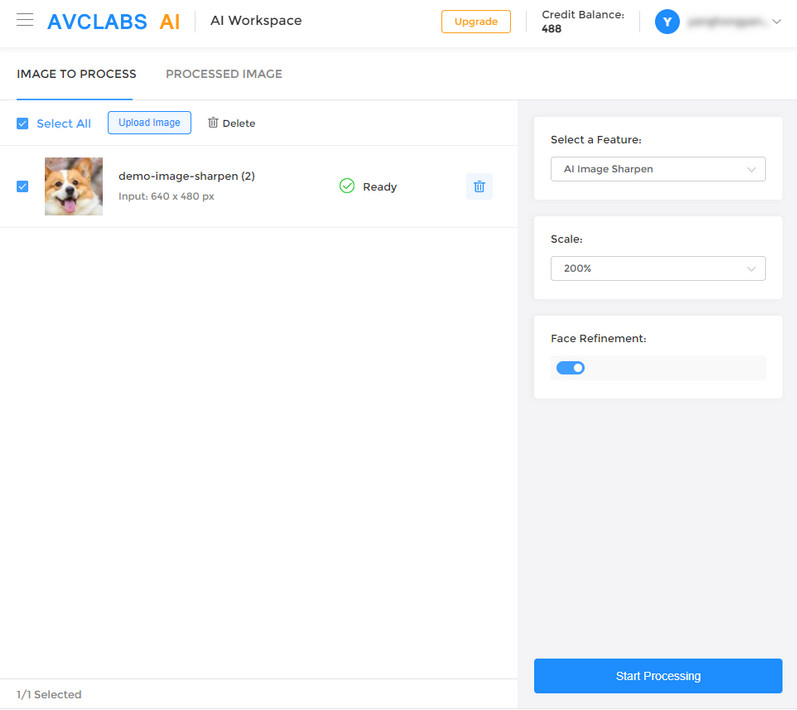 Now, click on the Start Processing button to start deblurring the blurry image. It will take about 15 to 30 seconds, please wait patiently and the AI will unblur the image automatically.
Step 3
Preview the Result and Download the Sharpened Image to Your Computer
Once the image sharpening process is done, simply switch to the Processed Image tab. You'll see 3 buttons beside the image. You are allowed to preview, download and deleted the sharpened image.You can drag the slider bar to preview the original and sharpened image. If you are satisfied with the result, you can click on the Download Image button at the bottom of this tool to save the clear image to your computer.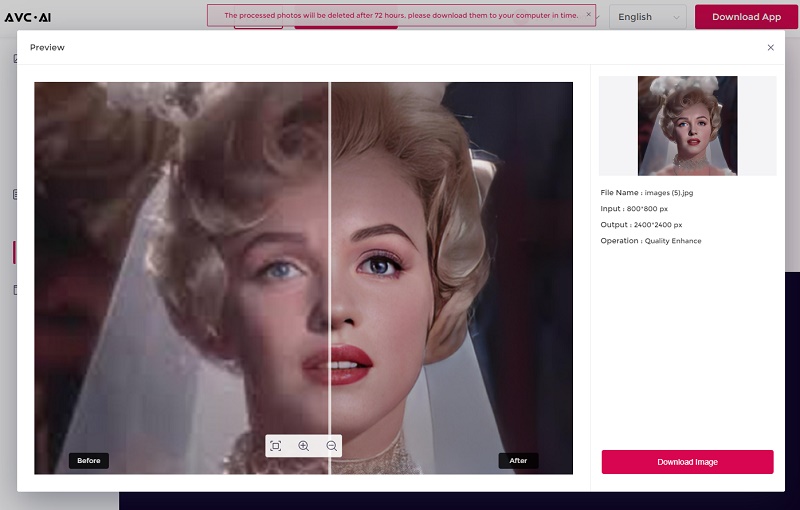 Note: The processed photos will be deleted after 72 hours, please download them to your computer in time.
---
Video Tutorial: Sharpen Images Online for Free Using AI Image Sharpener
---
Part 3: 5 Ways to Use AI Image Sharpener Online
The following are the most commonly used places for photo sharpener. We will now learn about the tool used in different styles.
1. Forensic-Strength for Out-of-Focus Blur and Motion Blur
This AI image sharpener can recover the license plate. It uses the most sophisticated deconvolution technology to literally "undo" blur. It also can be used to recover the license plate of a car speeding along causing motion blur.
2. Sharpen and Restore Old Photos
Image sharpener tool can enhance and restore old historic photos which have high sentimental value.
3. Sharpen Pictures for E-Commerce
The image sharpener gives a better contrast to each aspect of the image. This tool makes images really appealing for all e-commerce websites, where images can make or break a sale.
4. Sharpen Images for Social Media
It is sometimes misunderstood why Facebook images often look pixelated or of less quality. You can use the image sharpener to enhance the image quality and increase the image resolution and make the smallest details much more clearly than before.
5. Sharpen Image of Portrait
You can use the image sharpening online tool to do portrait photo enhancement like retouching skin, removing freckles, enhancing eyes, adjusting lighting and more, with only a few clicks. The lighting and hair color, to be specific, look more refined compared to before.
---
Bonus Tip: Best Image Sharpener Tool to Batch Sharpen Images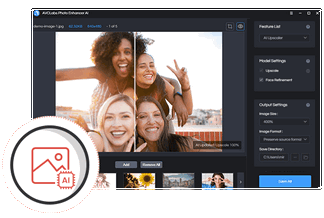 AVCLabs Photo Enhancer AI
If you wanna get better-quality pictures, process multiple photos more stably at the same time or crop photos, the desktop AI Photo Enhancement tool - AVCLabs Photo Enhancer AI is highly recommended. It comes with advanced features, such as colorizing black and white photos, portrait photo enhancement.
Learn More

---
Conclusion:
That's all. You've learned the best image sharpener online tool and detailed steps on how to sharpen blurry images online for free. Now, it's your turn to practice. You can try to sharpen images online automatically using the AI image sharpener free.
---

Video Converter

DVD Converter

Video Editor

Enhance Video Quality

Enhance Image Quality

Remove Objects