AI Face Blur | How to Blur Faces in Videos Automatically And Intelligently
"What is the easiest way to blur faces in a video? Is there an app to blur faces in videos?" - Monica Cortez
In the digital age, privacy is a massive concern. The fear of being stalked, recorded and exposed online is real. To protect our identity while sharing personal videos online, we can use face blurring technology to blur out faces automatically in videos. This article will help you understand what is AI face blur and how to apply it in your videos using AI-powered software like AVCLabs Video Blur AI.
Part 1: What Is AI Face Blur
AI Face blurring is a technology that allows you to blur out human faces in your videos automatically and smartly. AI face blurring uses AI to identify the faces in a video and then blurs them out. Face blurring is a part of video watermarking. Video watermarking is the process of adding information either in audio or visual parts of your video files to protect your content from piracy. AI face blurring is used in combination with other video watermarking techniques like logo overlay, image watermarking, and audio watermarking to protect your videos from being copied or used without your permission.

---
Part 2: Why You Should Use AI for Automatic Face Blurring
There are three major advantages of using AI to blur out faces in videos. First, you can use it to protect sensitive images like people's faces, personal information, or private data. Blurring faces automatically helps you maintain personal privacy while sharing and publishing videos. Second, you can use AI-powered face blurring to blur out faces in a professional quality. Poorly or inaccurately done face blurring can cause a bad user experience and can even be illegal in some countries. Blurred Faces AI provides a visual and audio experience that is pleasant and professional. Third, you can use AI to blur out faces in large batches. This helps you save time and cost as you do not have to manually blur each face for each video.
---
Part 3: How to Blur Faces in Videos Using AVCLabs Video Blur AI
When it comes to blurring faces in videos for data privacy, an AI-based face blurring software named AVCLabs Video Blur AI is highly recommended. As one of the best apps to blur faces in videos, AVCLabs Video Blur AI comes with an inbuilt face blurring feature. Through machine learning and powerful algorithms, you can apply it to any video and it will automatically find the faces, blur them, and apply other video editing at the same time.
What's more, AVCLabs Video Blur AI helps users to protect privacy by blurring and hiding sensitive information like license plates, logos, etc. Powered by AI technology, it handles everything automatically, no advanced video editing skills are required. Equipped with multiple blur options and flexible subscription plans, it can meet the different needs of users.
AVCLabs Video Blur AI
Automatically detect, recognize, and track faces in videos for anonymization with precision.
Blur the detected faces selectively for single face or multiple faces in a video.
Blur unwanted or sensitive objects and areas of a video.
AI-automated solutions for face blurring and video object blurring.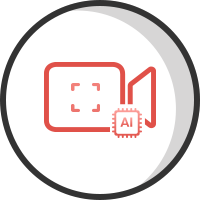 The following steps will help you apply face blurring in your videos using AVCLabs Video Blur AI.
Step 1
Install and Run AVCLabs Video Blur AI
Simply download and install the AVCLabs Video Blur AI on your computer, then double-click on the icon to open it.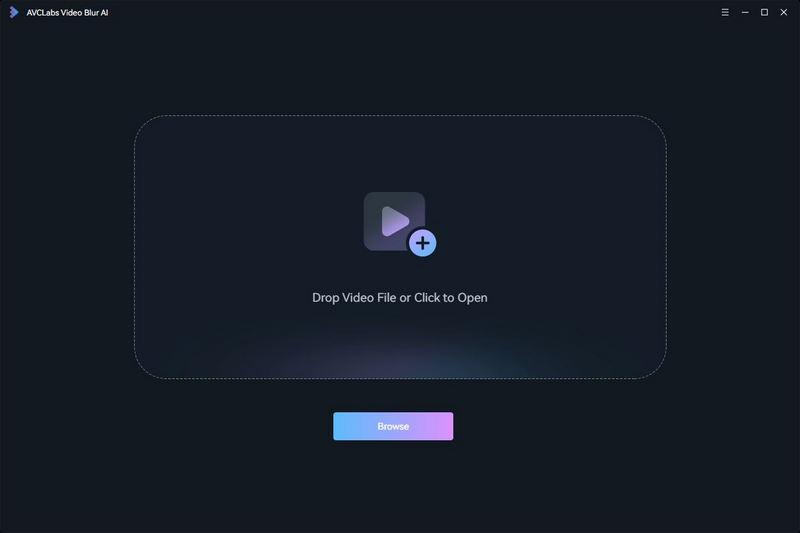 Step 2
Add A Video to AVCLabs Video Blur AI
Simply drag &amp drop a video from your computer to the program. You can also click on the Browse button at the bottom of the program interface and upload the video file you need from the computer. Additionally, you are able to click on the Menu button and choose "Open Video File..." to add a video from the computer to the program.
Note: AVCLabs Video Blur AI supports the most common video formats like 3G2, 3GP, AVI, DIVX, FLV, F4V, M2TS, MTS, MOV, MP4, M4V, MPEG, MPG, DAT, MKV, OGM, RMVB, RM, TS, TP, VOB, WMV, WTV, ASF, DV, WEBM, etc.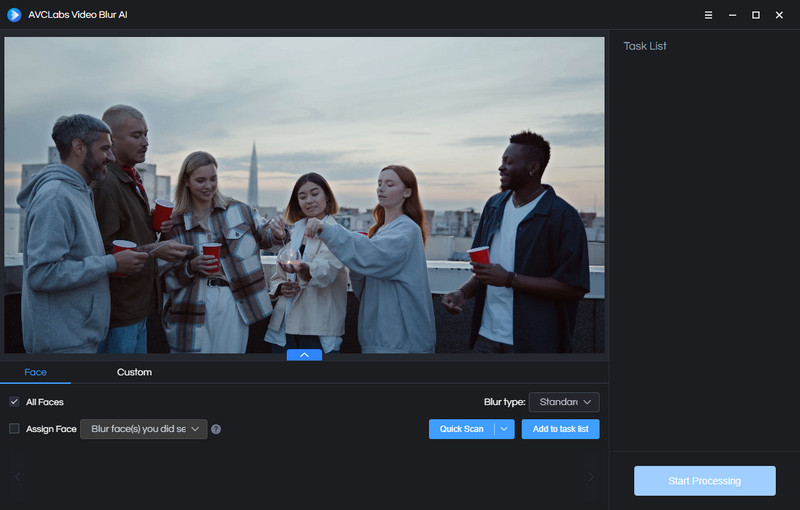 Step 3
Choose to Blur Single or Multiple Still or Moving Faces in A Video
To blur one or multiple faces in the video, just go to the Face tab. Two scan options: Quick Scan or Full Scan are available for you to scan all human faces in the video. Just select the scan option you need.
After the face scanning process is done, just tick off the All Faces option or the Assign Face option based on your need and then choose to blur face(s) you did select or blur face(s) you did not select.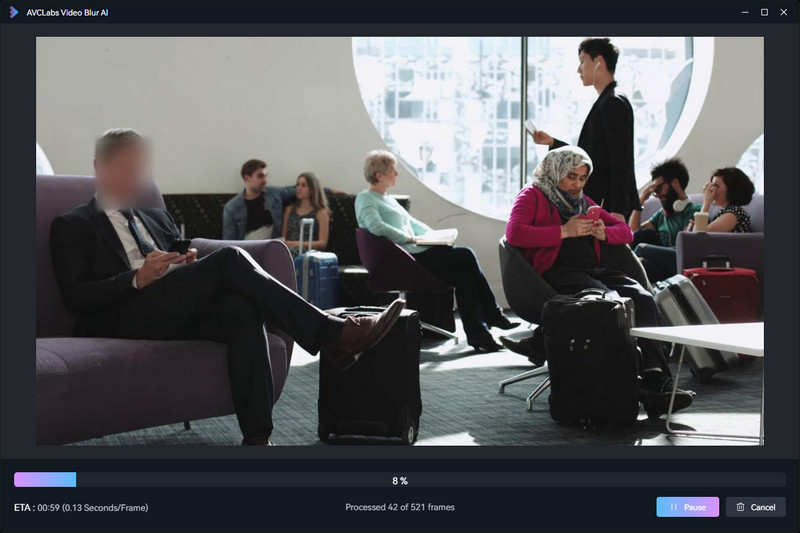 Now, simply select the type of blur: Standard, Blur or Custom according to your need. After that, just click on the Add to task list button to continue.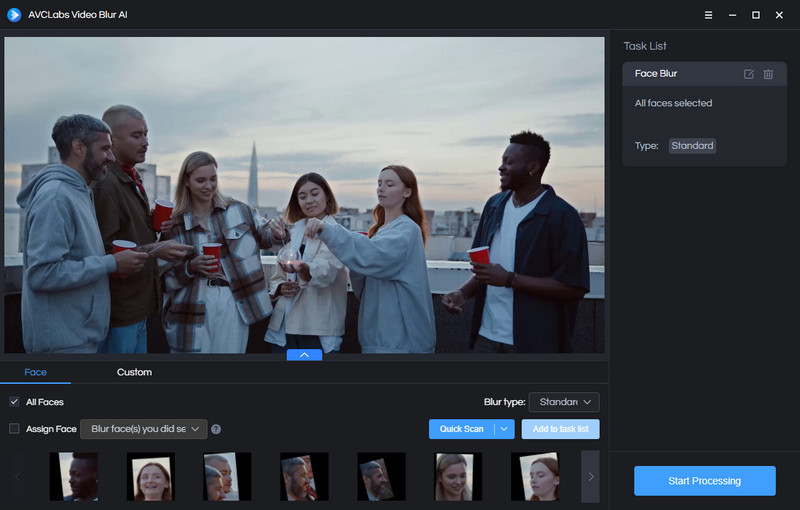 Tips: AVCLabs Video Blur AI also come with a function to help users to blur objects, areas, timelines, or a particular part of a video. Here, you need to switch to the Custom tab and then tick off the rectangle or the circle box. The corresponding box will appear in the video. Just left-click to drag the position of the box and resize it. Then choose the type of blur: Standard, Blur or Custom. Then tap on the Add to task list button.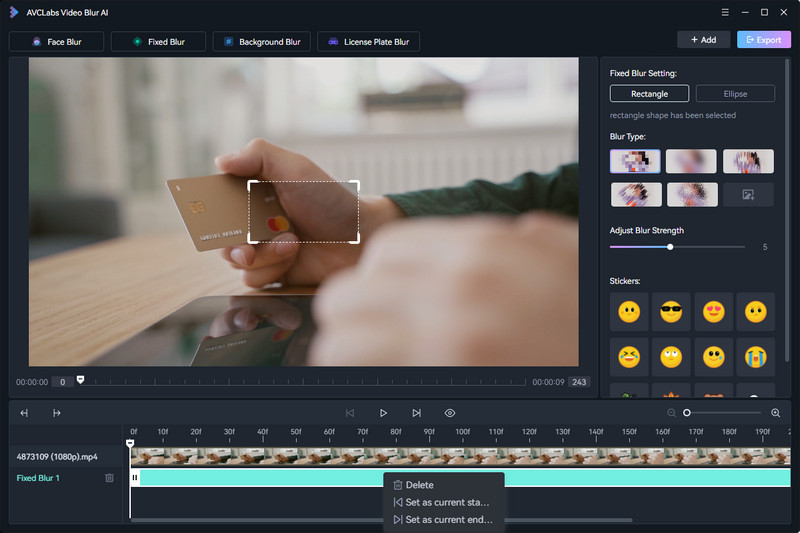 If you just wanna add blur to a clip, you can trim the unwanted parts frame by frame to save processing time. Just click on the up button below the video to unfold the progress bar, you can trim your video to the desired length by dragging the slider bar. Or input the start and end of the frames to set a clipping point accurately. Finally, click on the Add to task list button.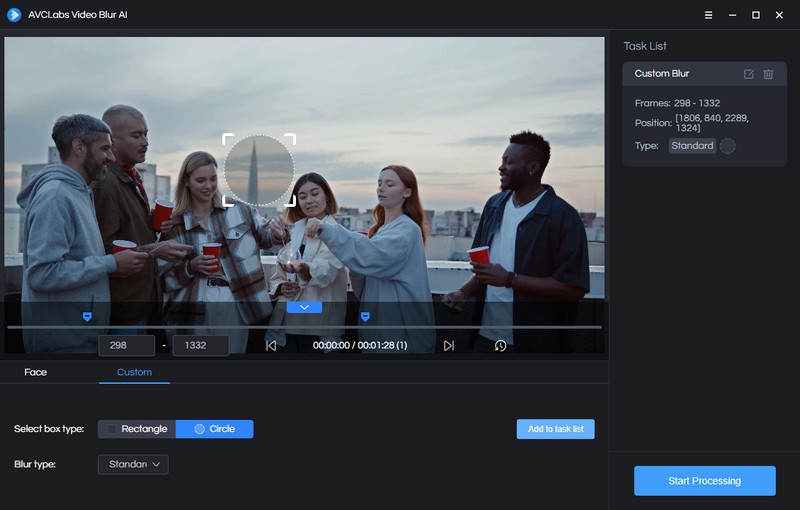 Step 4
Start Blurring Faces in A Video Automatically
Once all the preparation work is complete, simply click on the Start Processing button to start blurring faces in a video automatically. The final processing time depends on your computer's system configuration, video size. Please be patient.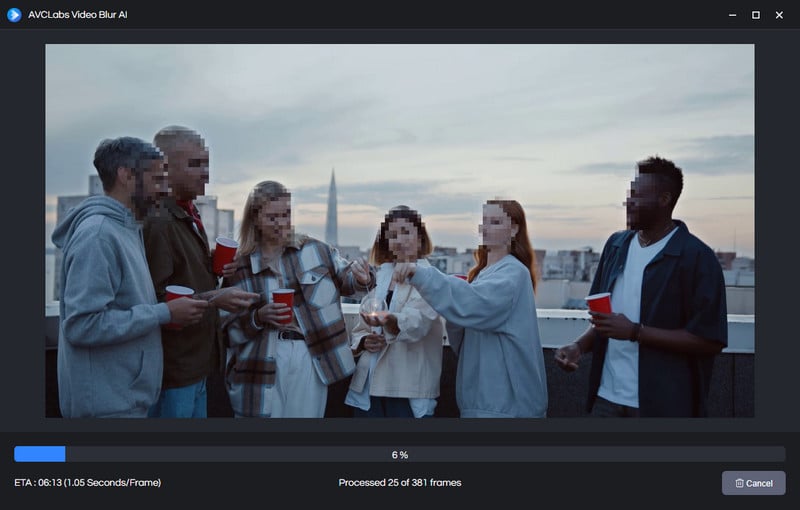 After the face blurring process finished, you can click on the Open Output Video button to check the output video with faces blurred.
---
Conclusion:
Now you know what is AI face blur, why you should use AI for automatic face blurring, and how to apply it in your videos using AVCLabs Video Blur AI. AVCLabs Video Blur AI provides a trial version to its users to test the full features. Just get it for free to enjoy the amazing face blurring app - AVCLabs Video Blur AI.
---
Try AVCLabs Video Blur AI to protect privacy!
---

Video Converter

DVD Converter

Video Editor

Enhance Video Quality

Enhance Image Quality

Remove Objects