Top 7 Best Video Blur Apps to Blur Faces or Any Part of A Video on iPhone, Android, Computer
"Which is the best video blur app to blur faces or any part of a video?" - Michael Burke
Do you have a video of your friends that you don't want them to see? Perhaps, you shot some footage where you're not looking your best. Or maybe you took a video of an important meeting and there are people in the frame whose faces should remain private. If any of these scenarios sound familiar, then you might be interested in learning more about the best video blur apps. These programs are designed to blur out different areas of a clip so that viewers cannot see specific details. And with so many options available, it can be difficult to determine which one is right for your needs.
In this blog post, we will go over our top 7 best video blur apps and explain why they stand out above the rest.
Part 1: Video Blur Apps: How They Work
Before we get into the specifics of each app, it's important to understand how the best video blur apps work. At their core, these programs are designed to conceal certain parts of a video. Therefore, if you want to hide someone's face, you select that area and the app will blur it out. Some apps also allow you to select specific body parts and apply a blur effect to them. So, for example, if you want to blur out a person's hands, you can do so with relative ease. The best video blur apps are designed to be intuitive and easy-to-use. Since many of these apps are computer-based, you must use a program to edit the footage you want to blur. Therefore, you will need to download and install a program on your computer if you want to use one of these apps.
---
Part 2: Best Video Blur App to Blur Faces or Any Part of A Video on Computer
1. AVCLabs Video Blur AI
Are you concerned about privacy when sharing videos online? Pixelating faces or any other unwanted objects and areas of a video is a great idea. AVCLabs Video Blur AI is the perfect video blur app for you to blur faces or any part of a video. It offers a solution to help protect your identity with its AI-automated face blurring and object blurring effects. This powerful software is able to apply the blur effects to moving or non-moving faces on videos precisely, ensuring that your privacy is protected. In addition, you are allowed to blur or anonymize sensitive data or object such as logos, license plates, or credit card numbers automatically. With AVCLabs Video Blur AI, you can share your videos with confidence knowing that your identity is safe.
AVCLabs Video Blur AI
Automatically detect, recognize, and track faces in videos for anonymization with precision.
Blur the detected faces selectively for single face or multiple faces in a video.
Blur unwanted or sensitive objects and areas of a video.
AI-automated solutions for face blurring and video object blurring.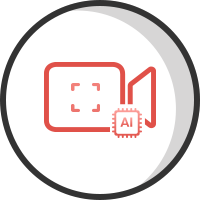 Steps to Blur A Video on Computer Using AVCLabs Video Blur AI.
Step 1
Install and launch AVCLabs Video Blur AI
Download and install AVCLabs Video Blur AI on your computer, then double-click on the icon to run it.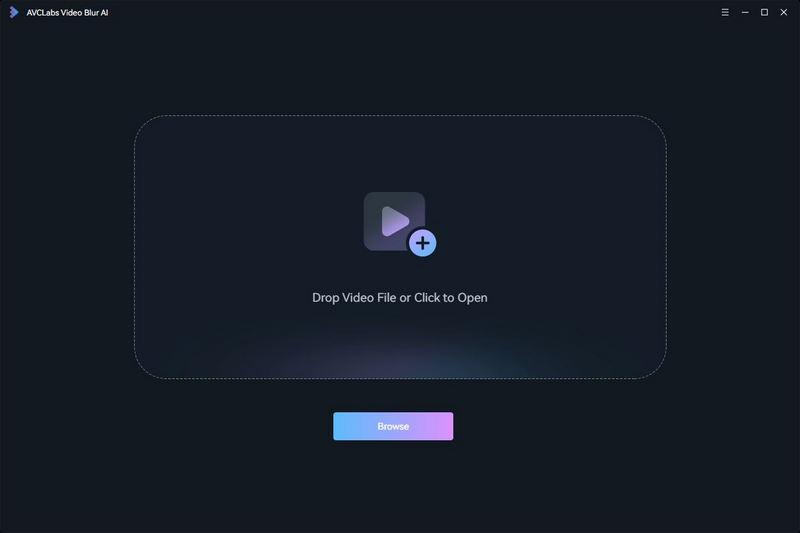 Step 2
Add A Video to AVCLabs Video Blur AI
Simply click on the Browse button at the bottom of the program interface to import the video file you need to blur from the computer to the computer.
Note: AVCLabs Video Blur AI supports the most common video formats like 3G2, 3GP, AVI, DIVX, FLV, F4V, M2TS, MTS, MOV, MP4, M4V, MPEG, MPG, DAT, MKV, OGM, RMVB, RM, TS, TP, VOB, WMV, WTV, ASF, DV, WEBM, etc.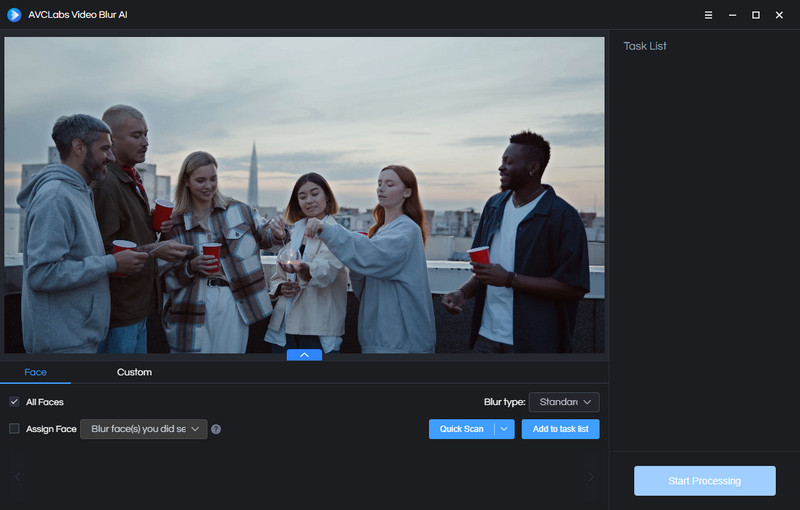 Step 3
Blur Faces, Object, Area or A Certain Part of A Video
After adding a video to the program, go to the Face tab. Here, you need to scan all human faces in the video. There are two san options for you: Quick Scan or Full Scan. you can select the one you like.
After the face scanning process is completed, just tick off the All Faces option or the Assign Face option according to your need and then choose to blur face(s) you did select or blur face(s) you did not select.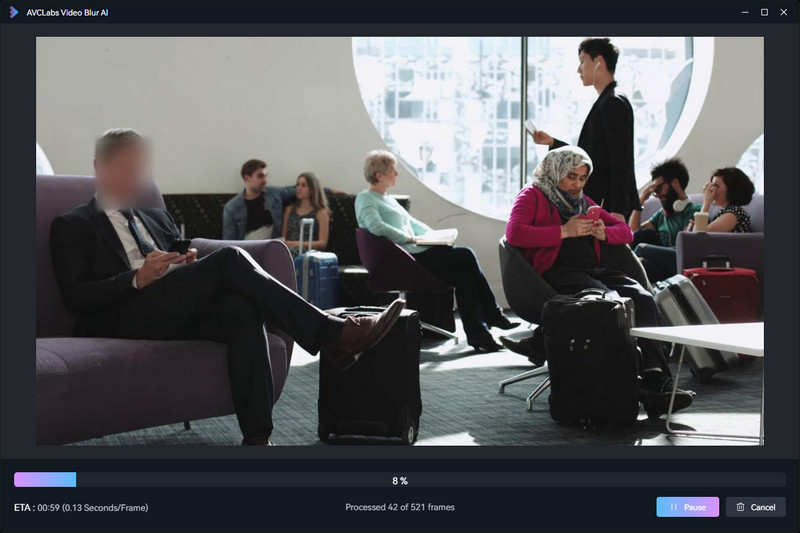 Now set the type of blur: Standard, Blur or Custom. Then click Add to task list.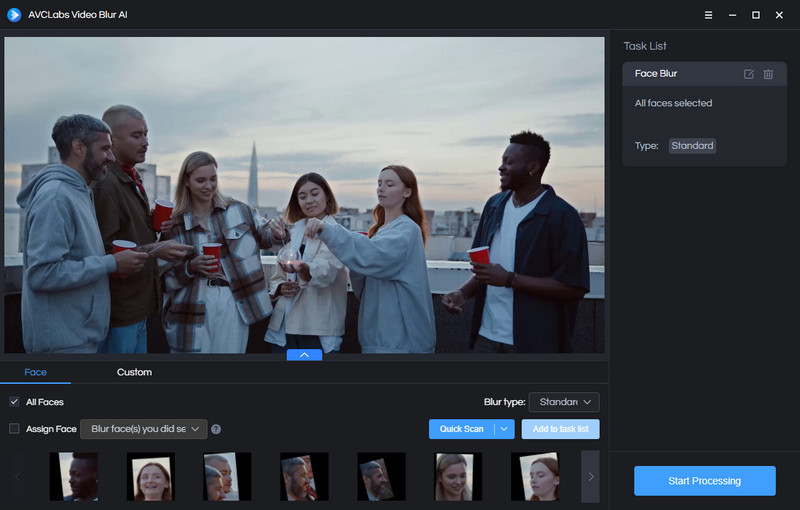 If you want to blur an object, area or a particular part of a video, you are suggested to switch to the Custom tab and then tick off the rectangle or the circle box. The corresponding box will appear in the video. Just left-click to drag the position of the box and resize it. Then choose the type of blur: Standard, Blur or Custom. Then click Add to task list.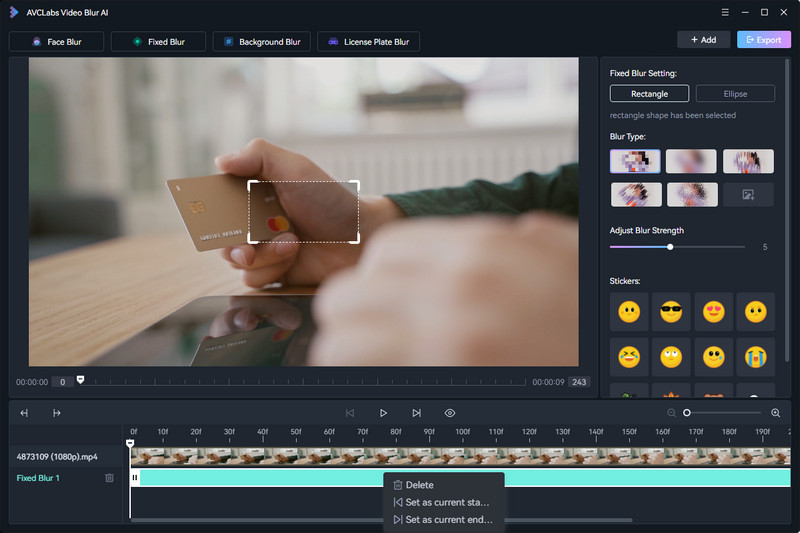 If you only want to blur a particular part of the clip, just click on the up button below the video to unfold the progress bar. You can trim it frame-by-frame by inputting the frame number directly or dragging the progress bar to select the start and end frame manually. Finally, click on the Add to task list button.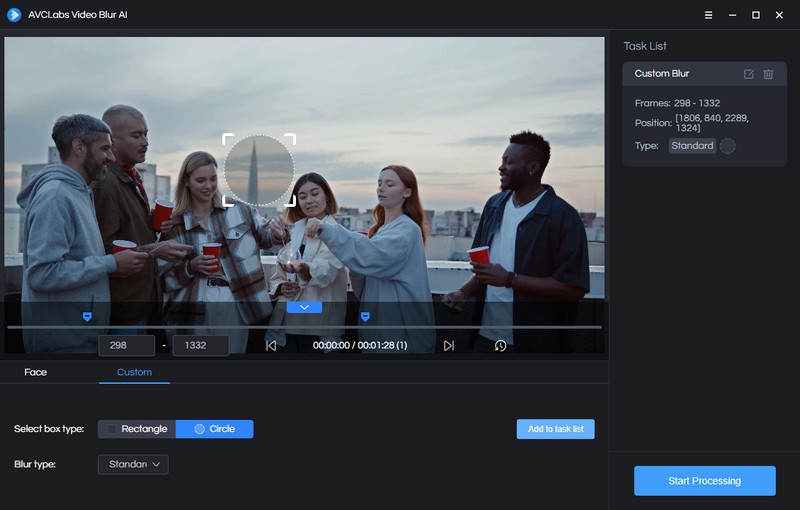 Step 4
Start Blurring A Video Automatically
Once all the settings are done, simply click on the Start Processing button to start blurring faces, object, area, region, or timeline in a video automatically on your computer.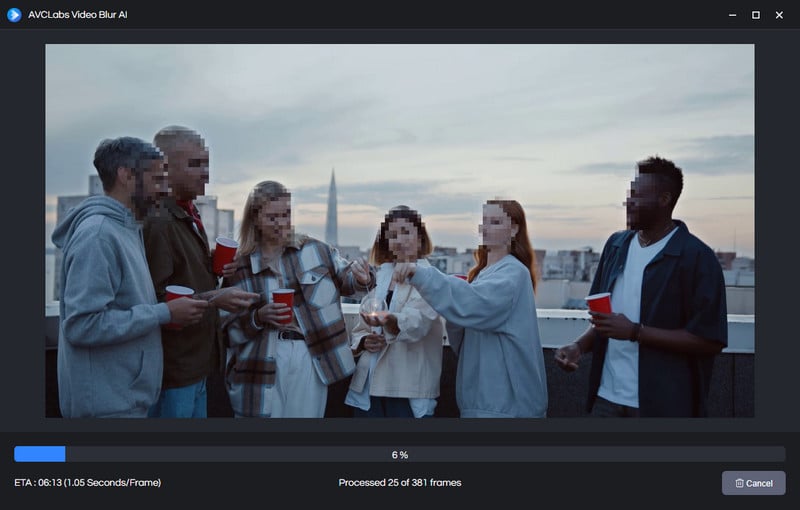 After the video blurring process finished, you can hit on the Open Output Video button to check the video blurred.
---
Pros:
• Super easy and convenient video blur tool for beginners
• Track the still or moving faces and find them, then blur them automatically
• Multiple input video formats are supported
• Rich in video blurring options
• Support blurring people's faces, logos, license plates, or credit card numbers in a video
• Support blurring a particular part of a video
• Offer a free trial version to test full features
Cons:
• It is not compatible with Android and iOS devices
---
Part 3: Best Video Blur App to Blur Videos on iPhone
1. Video Mosaic
When it comes to the best video blur apps for iPhone, the one that comes to mind first is Video Mosaic App. It can blur the entire video, pixelate faces, use mosaic effects or trace the finger on a section to hide it. Video Mosaic App is ideal for any video – YouTube, TikTok, the camera recorded, etc. to resolve the issues.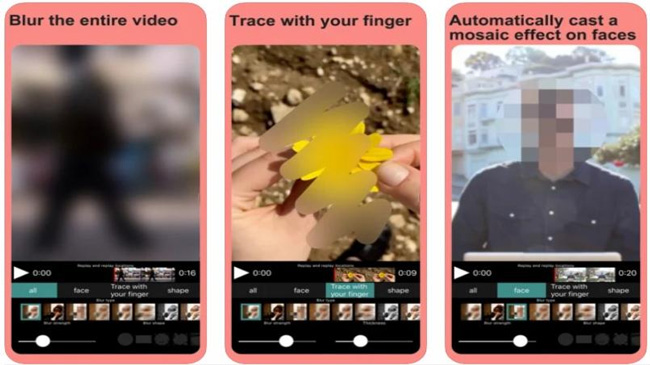 Pros:
• Automatically blur part of a video or entire clip
• Along with the blur effect, it comes up in various shapes such as geometric shapes, abstract and hearts
• Allow you to add video frames to faces, objects, and even to the whole video
• The quality of the blurred video is stunning
Cons:
• In-app purchases can distract you a lot while using this application
• The application is not stable, and crashes sometimes
---
2. KineMaster
KineMaster is a powerful yet easy-to-use video face blur app designed for iOS and Android users. Using this video blur app, users can easily blur faces in their videos. It also covers credible features to level up videos like multiple video layering, chroma key function, voiceover, transition effects and many more.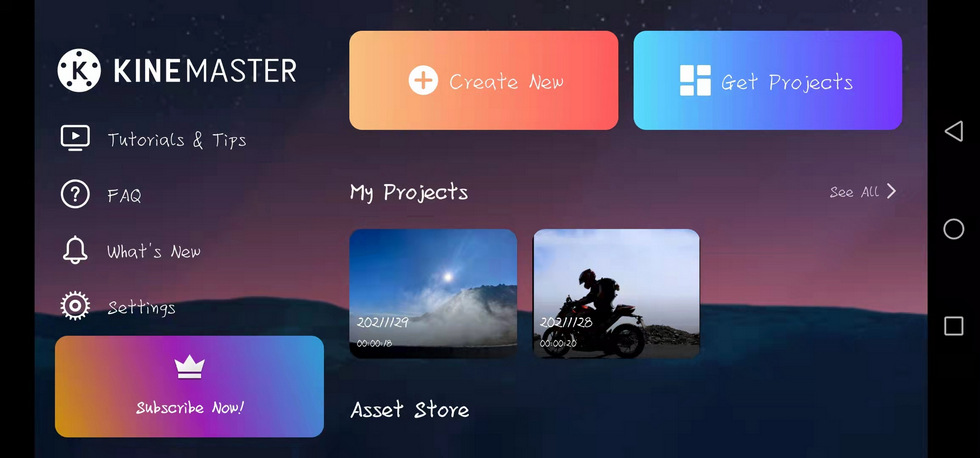 Pros:
• Featured with various basic editing tools
• Transition effects
• Frame-by-frame trimming
• Multiple video layering provided
• Compatible with both iPhone and Android
Cons:
• It requires an in-app purchase to unlock all features
• Free version places watermarks on videos
---
3. MovStash: Intelligent Face Blur App
MovStash is is one of the best apps to blur video on iPhone and is packed with several useful features. It comes with multiple blurring modes, face tracking, and timeline modes. What's more, it enables you to add several custom color filters. Next comes its blurring styles.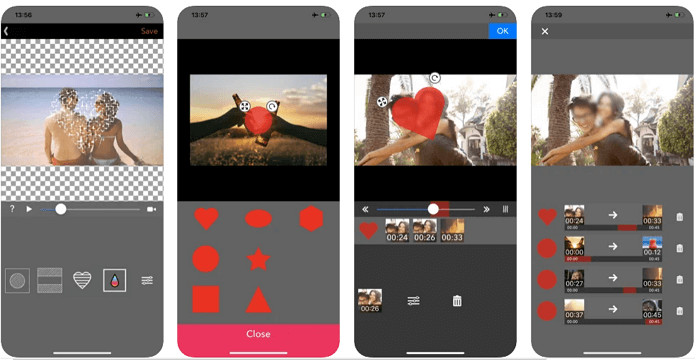 Pros:
• 4 different blurring modes to choose
• You can make a blurred video in Timeline or Simple mode
• Video background filters and automatic face recognition
• Allow users to change blurring shape and position
• Easy file saving and sharing option
Cons:
• You can't make any editing options using this app
---
Part 4: Best Video Blur App to Blur Videos on Android
1. Blur Video
Blur Video is a practical blur video app for Android. It enables user to blur all videos on Facebook, Snapchat, Instagram and other social media in MP4, WMV and 3GP formats. In the Free Style Blur, you can choose to blur the inside or outside of any fixed shape, locate the content and position you need to blur, and then select the blur intensity you want.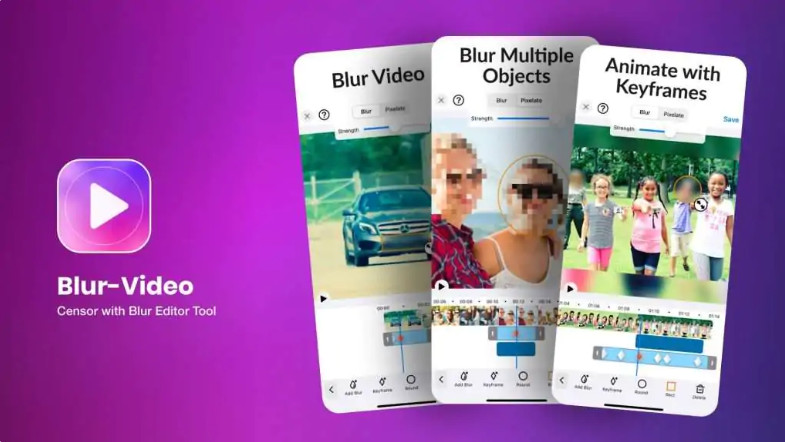 Pros:
• Blur unwanted background, objects, and parts in a video
• Pixelate faces and areas of YouTube, TikTok videos
• Comes up with a wide variety of blur features such as fun blur, freestyle plan, and Instagram crop blur feature
• Various blur features are free, such as the freestyle feature which is often available only in the premium versions of other apps
• Edit videos of different formats including MP4 3GP and WMV for Instagram and other social media platforms
Cons:
• Not good for any other device except Android.
---
2. VideoShow
VideoShow is a blur video app for iPhone and Android. It is mainly for blurring portrait videos because it has a powerful facial recognition function and the option of adding real-time facial effects and dynamic stickers.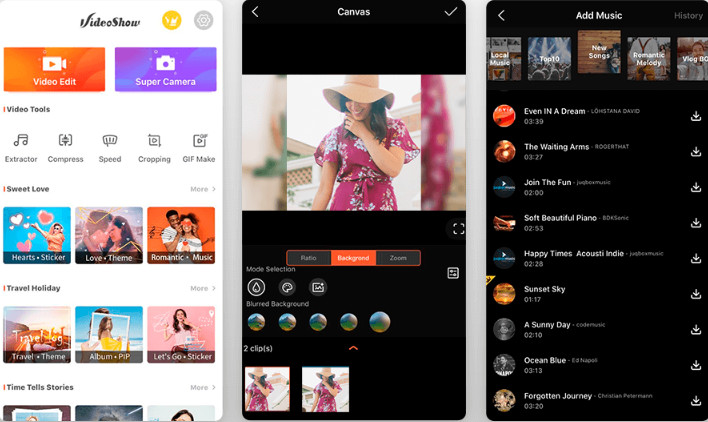 Pros:
• Come with facial recognition function
• Support posting your video on various social platforms
• Allow using various face effects and motion stickers
• Availability of the video dubbing picture
Cons:
• It is large and takes up space
• Lots of in-app purchases
---
3. MagoVideo
MagoVideo is a blur video app for Android with plenty of interesting tools. The best part is that no prior experience is required and you can easily become proficient in blur video making. If you'd like pleasing editing without advertisement disturbing, this app is what you're looking for.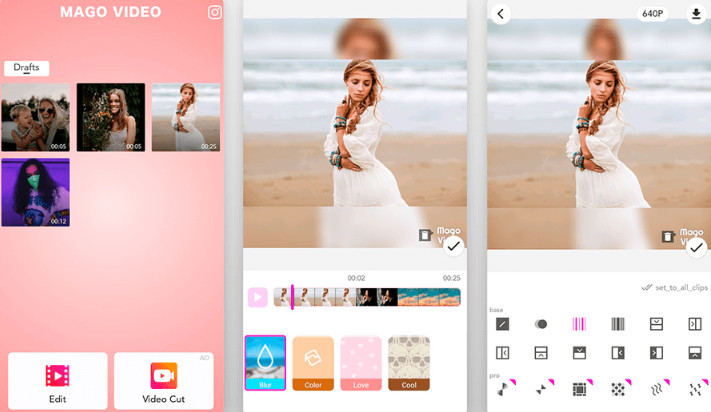 Pros:
• Come up with fantastic background options for blur videos
• Perfect for preparing GIF stickers and videos with various effects for social media apps
• Various video editing tools including trimming and cutting tools are available
Cons:
• It takes longer to save a video
---
Conclusion:
As you can see, the best video blur apps have plenty to offer. They are easy to use and can be used to conceal a variety of different details. This can be incredibly useful if you want to blur out a face, hands, or some other part of a video. If you have ever wanted to blur out something in a video, then you should consider using one of these apps. They are easy to use and can be applied to clips on your computer, iPhone, or Android device.
Try AVCLabs Video Blur AI to protect privacy!
---

Video Converter

DVD Converter

Video Editor

Enhance Video Quality

Enhance Image Quality

Remove Objects